Compulsory Girls Succeed at State!
Congratulations to our Level 3 and Level 4 Girls on their success at the 2018 Washington State Compulsory Championships.
The Level 3 girls earned 2nd Large Team honors.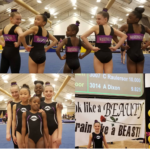 As a team, they earned:
2 Silver All Around Medals
3 Bronze All Around Medals
3 Gold individual event medals
5 Silver individual event medals
 4 Bronze individual event medals
The Level 4 team earned 1 Silver and 2 Bronze medals in the All-Around. 

3 Gold individual event medals
3 Silver individual event medals
3 Bronze individual event medals