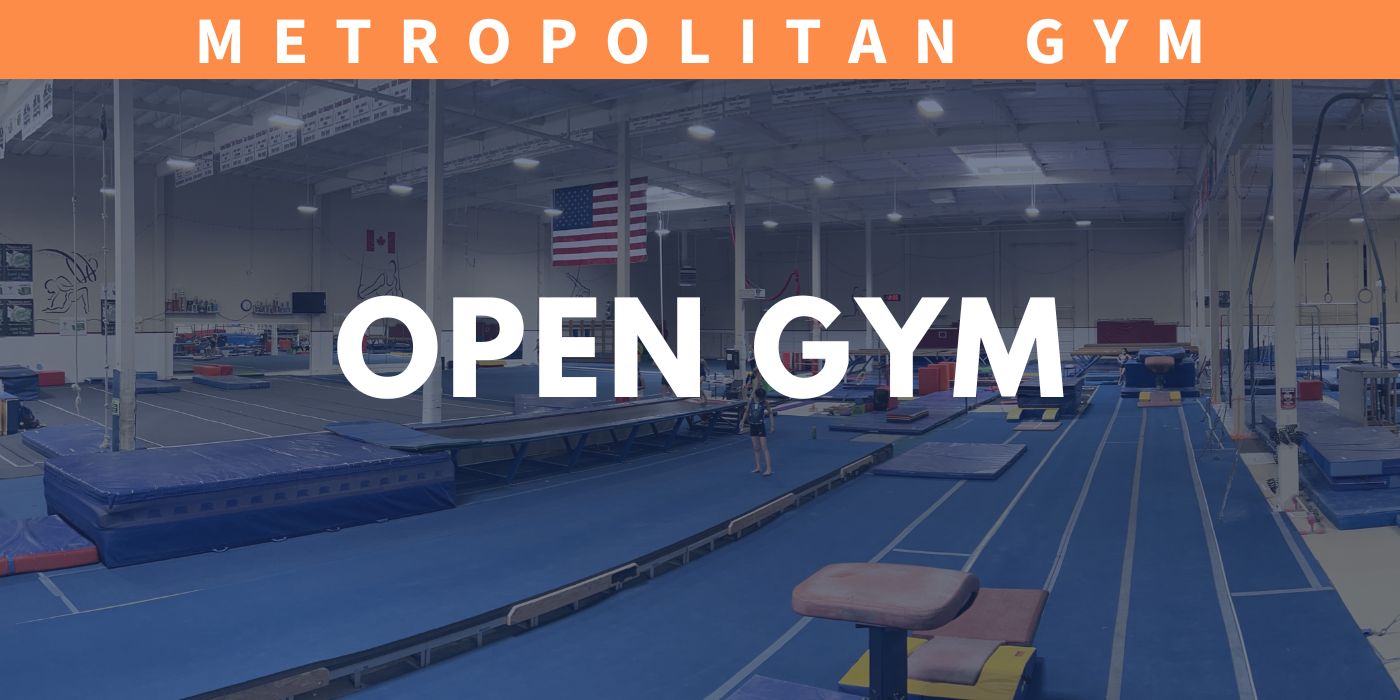 OPEN GYM SCHEDULE & REGISTRATION
MEMBER LOG IN
CONTACT US
Open gym at Metropolitan is a fantastic way to play in the gym, practice skills, and get out the wiggles! Our open gym area features trampolines, a rod floor, a large foam pit, and of course gymnastics equipment! Kids are welcome to come and play! Children under 6 must be accompanied by a parent on the floor to assist safety. No parents/adults on the gym equipment.

Pre-registration online required for Open Gym participation.
Registration closes one-hour before Open Gym begins.

OPEN GYM PRICING
WEDNESDAYS 2:00-4:00PM
$25 for up to two-hours + Conv. Fee for online registration
SATURDAYS 12:00-2:00PM
$25 for up to two-hours + Conv. Fee for online registration

Member Discounts: 
We occasionally send out discount codes to our members via email.
When you have a discount code it can be redeemed as a digital coupon for discounted Open Gym; if there is no discount code available, this means that it is regular pricing.


OPEN GYM RULES & POLICIES
No adults/parents on the gym equipment.
No "spotting" your children or others.
Must remain in the open gym areas of the gym: no high competitive apparatuses.
Trampolines are one at a time, no jumping from trampoline into foam pit.
Stop bounce before exiting trampolines.
Tumble Trampolines are one at a time, one direction.
Looking for Adult Open Gym?
Check out our
Adult Programs: Semi-Structured Open Gym Class



OUR OPEN GYM AREA INCLUDES
Foam pit
Trampoline
Two 30-foot tumble tracks
Two spring floors, and a rod floor.
Climbing ropes
Low bars
Low balance beams
Play-structure
over 21,000 square feet of fun!

ENTER
Use the "Main Gym" entrance.
Located at the main entrance with the large glass doors.
WEAR
Comfortable non-baggy athletic clothing, such as shorts, leggings, or non-baggy sweats, with a shirt or tank. If preferred, wear a leotard with shorts, leggings, or athletic pants if desired. No zippers, no buttons, no jeans.
Gymnastics is a bare-foot sport, upon arrival participants will remove shoes and socks.
If foot coverings are needed for personal reasons then gymnastics shoes or grip-socks are recommended.
Hair should be secured out of face, safe from obstructing skills and vision.
BRING
Water bottle recommended.
We have a water bottle filling station, no drinking fountain.