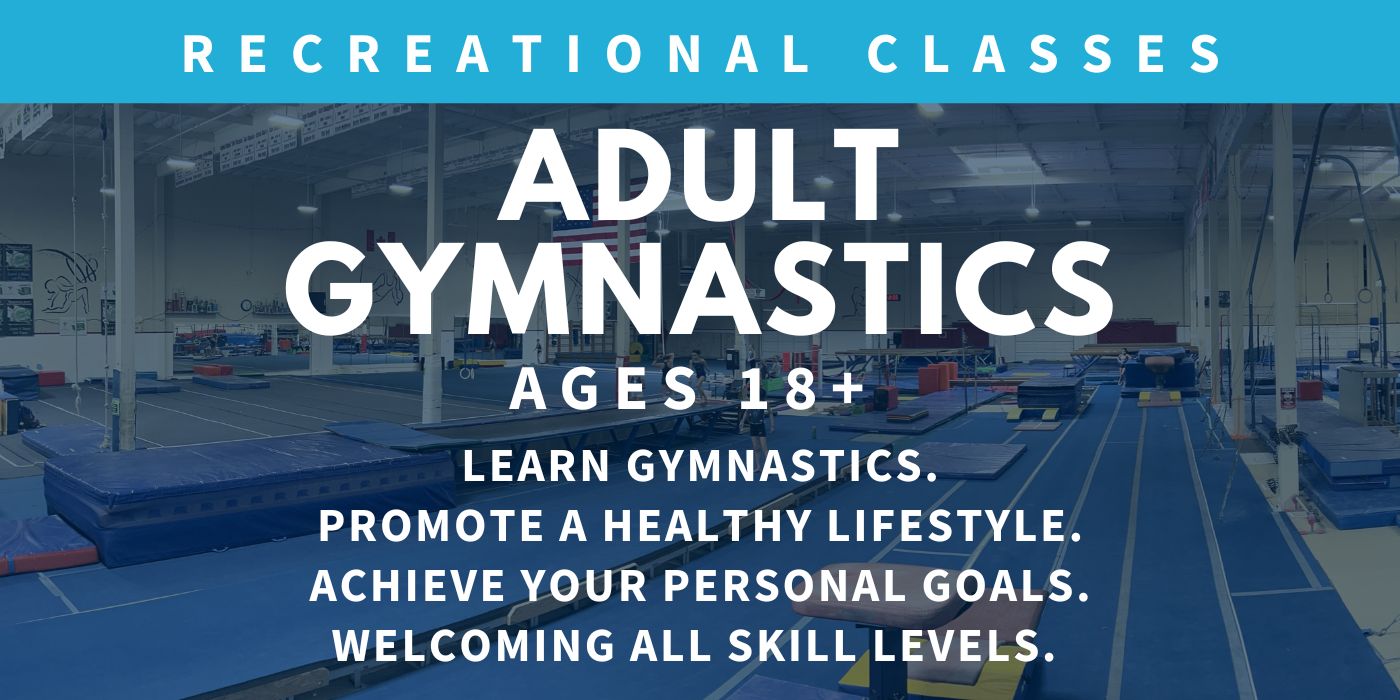 Gymnastics is great fun and fitness for all ages. Our adult program provides opportunities for adults to stay fit in the gym. The Adult Class adopts the philosophy that is "work hard, get strong and have fun doing it."

SEMI-STRUCTURED OPEN GYM ADULT CLASS
Designed for all Skill levels
Open for Gymnasts, Break Dancers, Trickers etc.
Monday 8:00-10:00PM
Wednesday 8:00-10:00 PM
FULLY STRUCTURED ADULT GYMNASTICS CLASS
Designed for all skill levels
Thursdays 7:00-9:00 PM
FIRST TIME
DROP-IN TRIAL $35
No pre-registration required, arrive 15 minutes prior to the class you wish to attend.
Check in at the main gym Front Desk, sign waivers and pay in person.
Purchasing First Time Drop-in Trial waives "Life-Time Membership" if you wish to continue with future membership.
Limit one First Time Drop-in Trial per person, if you wish to continue after the first time, then you will need to purchase Anniversary Insurance and Adult Class Punch.


BECOMING A MEMBER
ANNIVERSARY INSURACE, required
$50/yearly
LIFE-TIME MEMBERSHIP, required*
$25/once-per-lifetime
*Life-time membership is waived if you purchased a "First Time Drop-in Trial"
CLASS PUNCH CARD
$200/ten adult classes
Adult classes require a drop in punch card.
If you want to attend both class types (M/W) and (Th) you must purchase two punch cards, one for each class type.

Semi Structured Open Gym Classes: Monday/Wednesday Punch Card
OR
Fully Structured Gymnastics Classes: Thursdays Punch Card
OTHER IMPORTANT INFORMATION
GYM CLOSED FOR:
Labor Day: September 5th, 2022
Halloween Day: October 31st, 2022
Thanksgiving Break: November 23rd – 25th, 2022
Winter Break: December 22nd, 2022 – January 2nd, 2023
Memorial Day, Monday, May 29th, 2023
Independence Day, July 3-4th, 2023
For weather closures (snow, storms, etc), we follow the "Kent School District" for snow and weather related cancelations. Check our social media for weather related closure updates.
HEALTH AND SAFTEY
It is strongly recommended that any adult consult a physician before starting a fitness program.


ENTER
Use the "Main Gym" entrance.
Located at the main entrance with the large glass doors.
WEAR
Comfortable non-baggy athletic clothing, such as shorts or non-baggy sweats, with a shirt or tank; no zippers, no buttons, no jeans. Or a leotard with shorts, leggings, or athletic pants if desired.
Gymnastics is a bare-foot sport, upon arrival participants will remove shoes and socks.
If foot coverings are needed for personal reasons then gymnastics shoes or grip-socks are recommended.
Hair should be secured out of face, safe from obstructing skills and vision.
BRING
Water bottle recommended.
We have a water bottle filling station, no drinking fountain.
ARRIVAL
Enter through Main Gym entrance.
Visit Front Desk: sign waivers and pay.
Remove shoes and socks, join adult class when it begins.