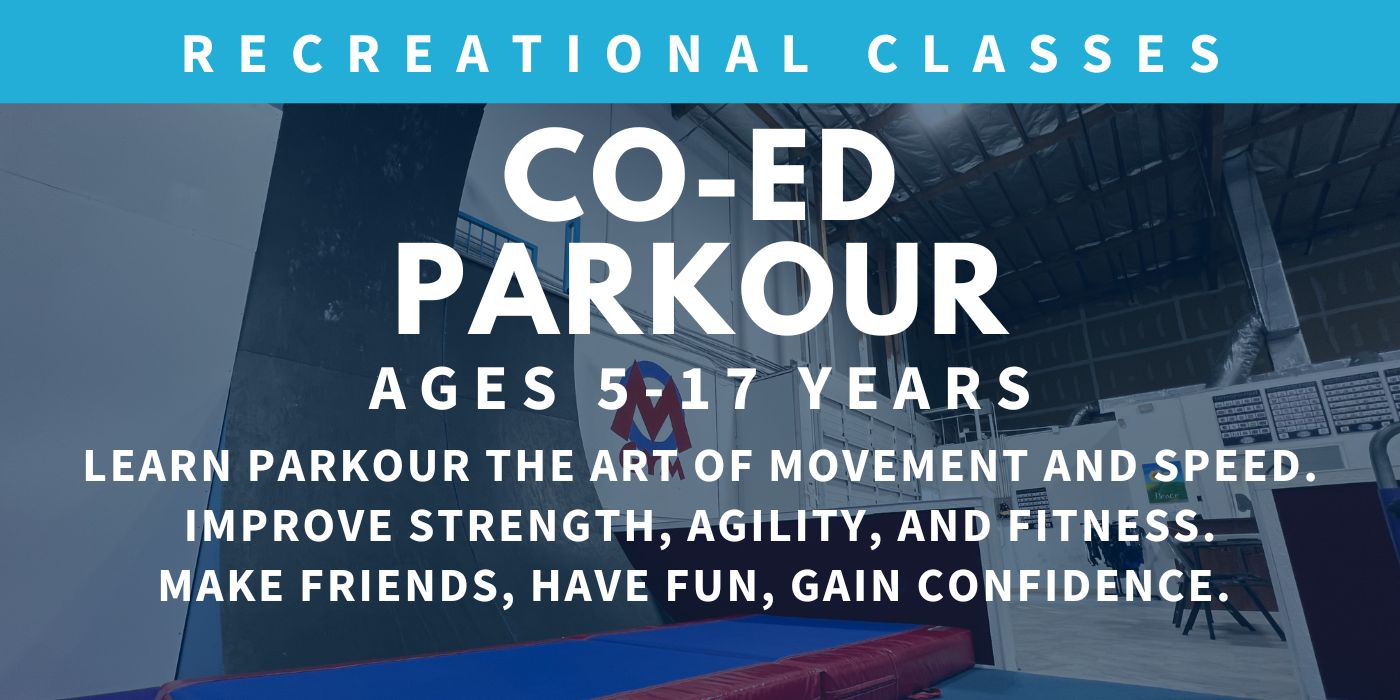 ENROLL NOW
MEMBER LOG IN
CLASS SCHEDULE
CONTACT US

This program includes instruction and open activity time in each class.
Athletes will develop skills in both the Freestyle and Speed divisions of Parkour. In the Speed event, athletes must overcome obstacles as quickly as possible to reach the finish line in the quickest time. In the Freestyle event, athletes make use of the obstacles to show off their style and creativity through skill performance.

Online pre-registration required for participation.
Free trial class available!
Limit one free trial class per non-enrolled child.
Available in classes with space available, no free trial in classes with waitlist.

LIFETIME MEMBERSHIP
$25/once per lifetime per family + Conv. Fee
Required, due with first-time enrollment.
ANNIVERSARY INSURANCE
$50/yearly per family + Conv. Fee
Due at first-time enrollment, and once per year upon your membership anniversary date.
TUITION PRICING
Parkour 1 – Beginner: Ages 5-12Y
Once per week 1-hour class: $90/month +Conv. Fee
Twice per week 1-hour classes: $150/month + Conv. Fee
Parkour 2: Ages 5-12Y
Once per week 1.5-hour class: $120/month + Conv. Fee
Twice per week 1.5-hour classes: $195/month + Conv. Fee

TUITION POLICIES
CONTINUOUS ENROLLMENT
Continuous enrollment ensures your space is reserved in the class continuously while paying monthly tuition. Monthly tuition is the same price each month, regardless of the number of weeks in that month.
Online enrollments default to "auto pay" for Monthly Tuition, pre-paying for the following month; if you wish to "self pay" instead of autopay, you can update your preferences in your family account online or contact us.
AUTOPAY
Autopay for monthly tuition is processed on the 26th of each month, paying for the following month's tuition.
SELF-PAY
If you are not on auto-pay, tuition fees are due on the 1st of each month.
LATE FEE
A $15.00 late fee +Conv. Fee will be assessed for any tuition not received prior to the 15th of the month. There is no pro-rating of tuition for missed classes. No credits or refunds are given for tuition.
DROP POLICY
Notify us via email if you intend to drop your enrollment by the 15th of the month prior to the month that you are canceling tuition. If you do not notify us by the 15th, you will be responsible for the following month's tuition.

SIBLING DISCOUNTS
The first child pays full tuition, and each additional sibling in the same family receives a 10% discount.
PAY IN ADVANCE DISCOUNTS
Tuition that is paid 3 months in advance receives a 5% discount.
Tuition that is paid 6 months in advance receives a 10% discount.
IMPORTANT DATES
GYM CLOSED FOR:
Labor Day: September 5th, 2022

Halloween Day: October 31st, 2022

Thanksgiving Day and Friday: November 24-25th, 2022

Winter Break: December 22nd, 2022 – January 2nd, 2023

Easter Sunday: April 9th, 2023

Memorial Day, Monday, May 29th, 2023

Independence Day, July 3-4th, 2023
For weather closures (snow, storms, etc), we follow the "Kent School District" for snow and weather-related cancelations. If your class is canceled due to holiday/gym closure, you will receive one Open Gym makeup credit, which is good for 30 days. Unused Open Gym makeup credits expire after 30 days.
SPECIAL DATES & EVENTS
Coming soon!
ENTER
Use the "Rec Gym" entrance.
Located at door number 5.
WEAR
Comfortable non-baggy athletic clothing, such as shorts or non-baggy sweats, with a shirt or tank; no zippers, no buttons, no jeans. Or a leotard with shorts, leggings, or athletic pants.
Gymnastics is a bare-foot sport, upon arrival participants will place shoes and socks into a cubby; if foot coverings are needed for personal reasons then gymnastics shoes or grip-socks are recommended.
Hair should be secured out of face, safe from obstructing skills and vision.
BRING
Water bottle recommended.
We have a water bottle filling station, no drinking fountain.
ARRIVAL
Enter through Rec Gym entrance.
Shoes and socks into cubby or with parent.
Participants line up at the sign for their class, and enter gym with their coach.
FREE TRIAL CLASS
Limit one free trial class per non-member child, ages 1-17 years old.
Available in classes with space available, not available in class with waitlist.
After your trial class, please visit our Front Desk if you wish to enroll.