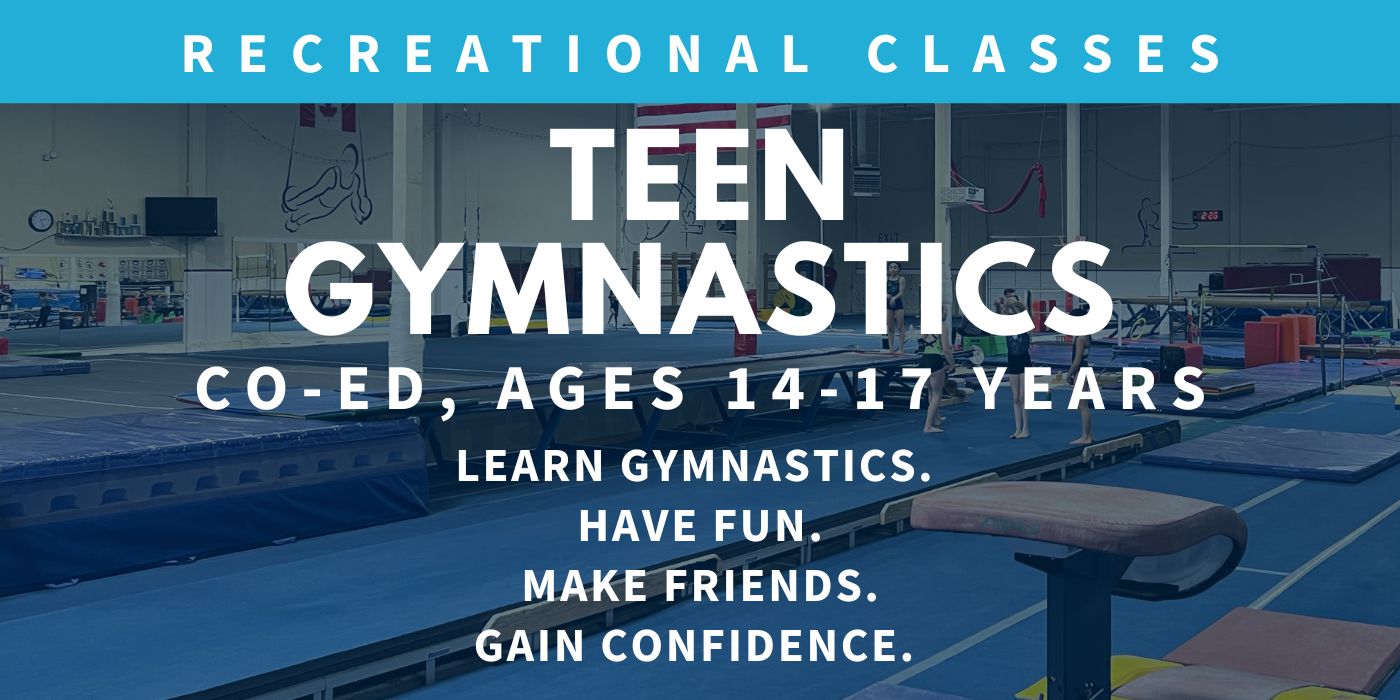 ENROLL NOW
MEMBER LOG IN
CLASS SCHEDULE
CONTACT US
Teen Gymnastics is perfect for first-time gymnasts and experienced gymnasts alike! This class features both structured gymnastics training and conditioning, as well as individualized skill work on all competitive events. This class can function as a fantastic supplement to the High School gymnastics season to train and improve skills in the off-season, cross training for other sports, or for teens wanting to learn gymnastics for recreational fun or fitness goals. All skill levels welcome, no experience required.

FREE TRIAL CLASS
Online pre-registration required for participation.
Free trial class available!
Limit one free trial class per non-enrolled child.
Available in classes with space available, no free trial in classes with waitlist.

LIFE-TIME MEMBERSHIP
$25/once per life-time per family +Conv. Fee 
Required, due with first-time enrollment.
ANNIVERSARY INSURANCE
$50/yearly per family + Conv. Fee
Required, due at first-time enrollment, and once per year upon the anniversary date of your membership.

TUITION PRICING
TEEN GYMNASTICS 14-18Y, 2-hour class
Once per week: $150/month + Conv. Fee
TUITION POLICIES
CONTINUOUS ENROLLMENT
Continuous enrollment ensures your space is reserved in the class continuously while paying monthly tuition. Monthly tuition is the same price each month, regardless of the number of weeks in that month.
Online enrollments default to "auto pay" for Monthly Tuition, pre-paying for the following month; if you wish to "self pay" instead of autopay, you can update your preferences in your family account online or contact us.
AUTOPAY
Autopay for monthly tuition is processed on the 26th of each month, paying for the following month's tuition.
SELF-PAY
If you are not on auto-pay, tuition fees are due on the 1st of each month.
LATE FEE
A $15.00 late fee + Conv. Fee will be assessed for any tuition not received prior to the 15th of the month. There is no pro-rating of tuition for missed classes. No credits or refunds are given for tuition.
DROP POLICY
Notify us via email if you intend to drop your enrollment by the 15th of the month prior to the month that you are canceling tuition. If you do not notify us by the 15th, you will be responsible for the following month's tuition.

SIBLING DISCOUNTS
The first child pays full tuition, and each additional sibling in the same family receives a 10% discount.
PAY IN ADVANCE DISCOUNTS
Tuition that is paid 3 months in advance receives a 5% discount.
Tuition that is paid 6 months in advance receives a 10% discount.
IMPORTANT DATES
GYM CLOSED FOR:
Labor Day: September 5th, 2022

Halloween Day: October 31st, 2022

Thanksgiving Day and Friday: November 24-25th, 2022

Winter Break: December 22nd, 2022 – January 2nd, 2023

Easter Sunday: April 9th, 2023

Memorial Day, Monday, May 29th, 2023

Independence Day, July 3-4th, 2023
For weather closures (snow, storms, etc), we follow the "Kent School District" for snow and weather-related cancelations. If your class is canceled due to holiday/gym closure, you will receive one Open Gym makeup credit, which is good for 30 days. Unused Open Gym makeup credits expire after 30 days.
SPECIAL DATES & EVENTS
Coming soon!