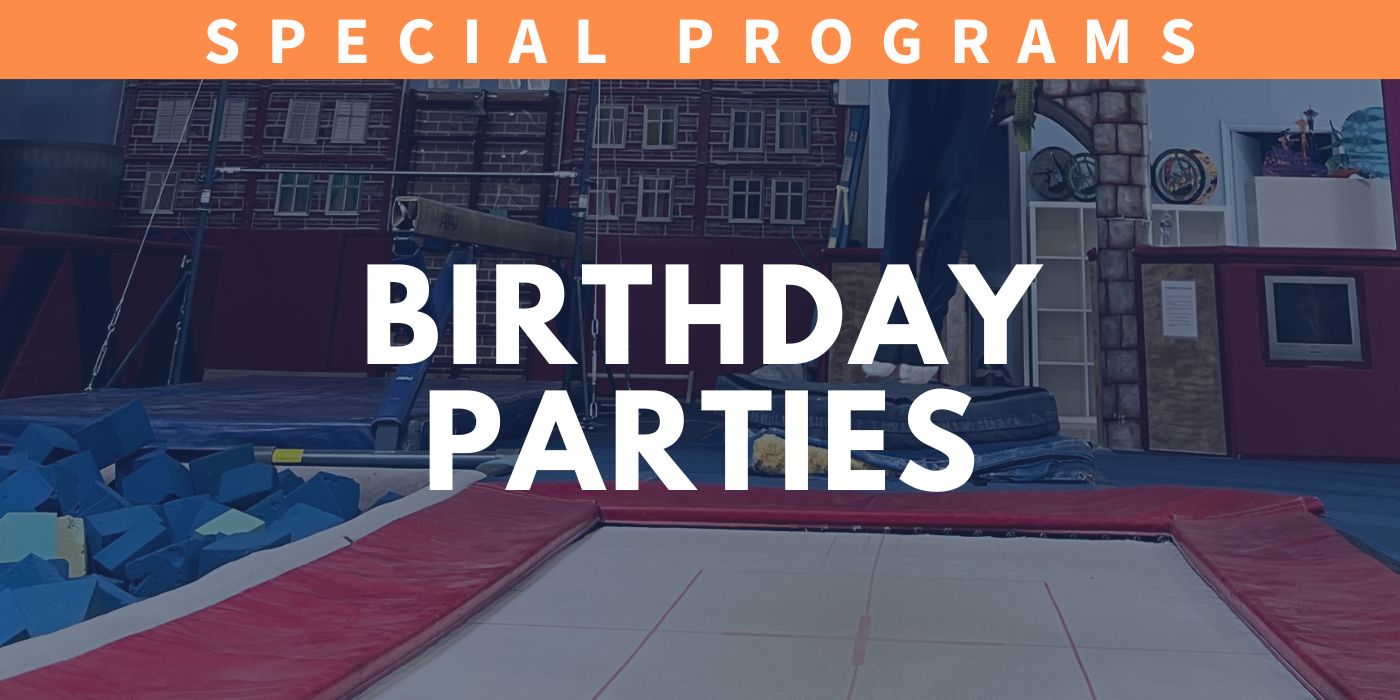 Our Metropolitan Birthday Parties are all about fun!
Our party staff will host the activities, including set up and clean up,
so you can relax and enjoy your child's special day.
Reserve your party: 425-282-5010
Office hours
Mon-Friday 2:00-8:00pm
Saturday 10:00am-2:00pm

PARTY LENTHS
1.5-hour party
Includes 55-minutes of playtime in gym, 35-minutes party table (opening presents optional)
2-hour party
Includes 1.25 hour of playtime in gym, 35-minutes party table (opening presents optional)
*additional 1/2 hour(s) available upon request, when available.

PARTY TYPES
Open-gym style party
Includes supervised free play in the gym.
The birthday child receives a special "Happy Birthday" medal.
Semi-Structured parties
Includes obstacle courses and games prior to open play.
The birthday child receives a special "Happy Birthday" medal.

WE SUPPLY
The Coach/Coaches
The party tables (4 seating tables, 1 cake table, 1 presents table)
We help with the set up, cake, presents, and clean-up
Coaches to supervise the party and to facilitate the FUN!

YOU SUPPLY
The guests
The Birthday Cake (snacks/pizza/food if desired)
Table cloths 6
Plates, forks, etc
Any special decorations
Candles & matches and cake knife.
No helium balloons

OUR GYM PARTY AREA INCLUDES
Foam pit
Trampoline
Two 30-foot tumble tracks
Two spring floors, and a rod floor
Climbing ropes
Low bars
Low balance beams, a spring floor
Play-structure, optional
over 21,000 square feet of fun!

BIRTHDAY PARTY PRICING
*prices do not include tax & Conv. Fee
**guests is the child headcount.
***adults/parents are not allowed on the gymnastics equipment
For 1 & 1/2 hour time slots
Up to 15 guests: $300
16-25 guests: $350
26-35 guests: $425
36-45 guests: $500
For 2 hour time slot:
Up to 15 guests: $350
16-25 guests: $400
26-35 guests: $475
36-45 guests: $550
Additional half-hour(s) when available:
*Extra 1/2 hour reserved 48hrs in advance: $50/half-hour.
**If you request more time on the day of your party $65/half-hour.
Additional Birthday Child:
$10+tax & Conv. Fee per additional birthday child.
This purchases the extra "Happy Birthday" Medal.
Need to cancel?
$50+ tax cancelation fee, must give 48hour+ notice.
No refunds given on parties canceled less than 48 hours prior to reserved party time.
RESERVE PARTY
Over the phone: 425-282-5010
or in person at the Main Gym Front Desk.
All parties must be reserved ahead of time, and are not confirmed until the party is paid in full, we cannot hold parties without payment.
Participation Waiver
Each guest must sign the waiver prior to participating in birthday parties.
 PARTICIPANT WAIVER FORM

HOST FAMILY ARRIVAL
Enter through Main Gym entrance.
Party host family may arrive 10 min prior to party time for set up.
GUEST ARRIVAL
Guests please arrive no more than 5-10 minutes early, enter through Main Gym entrance. Prompt pick-up is required at the end of the party.
CHILDREN WEAR
Comfortable non-baggy athletic clothing.
Such as gym shorts, sweats, leggings, with a shirt or tank.
No zippers, no buttons, no jeans.
If desired, a leotard with shorts, leggings, or athletic pants.
Gymnastics is a bare-foot activity, upon arrival participants will remove shoes and socks. If foot coverings are needed for personal reasons then gymnastics shoes or grip-socks are recommended.
Hair is recommended to be secured out of face, safe from obstructing skills and vision.
BRING
Water bottle recommended.
We have a water bottle filling station, no drinking fountain.