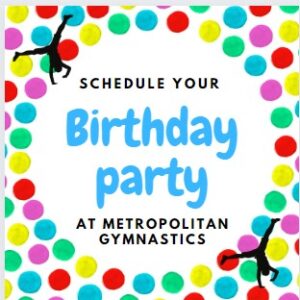 Birthday Parties
Our Metropolitan Birthday Parties are all about fun! We offer two lengths for birthday parties:
1 1/2 hr party – 55mins play, 35 mins party table and presents
2hr party – 1hr 25mins play, 35 mins party table and presents
Come and let us do all the work running the party including the clean-up! We offer two types of birthday parties, our incredibly popular open-gym style party or our more structured parties with obstacle courses and games prior to open play! The birthday child receives a special "Happy Birthday" medal.
We Supply
The Coach/Coaches
The party table
We help with the cake, presents, and clean-up
The Fun!
You Supply
The Children
The Birthday Cake
Table cloth
Tableware, forks, etc
Any special decorations
Don't forget candles & matches

Our Facility
Our facility features a large foam pit, rings, trampoline, climbing ropes, bars to swing on, balance beams, a 30-foot tumble track, a spring floor, and 21,000 square feet of fun!
Birthday Party Pricing – prices do not include tax
For 1 & 1/2 hour time slots:
Up to 15 guests: $250
16-25 guests: $300
26-35 guests: $375
36-45 guests: $450
For 2 hour time slot:
Up to 15 guests: $300
16-25 guests: $350
26-35 guests: $425
36-45 guests: $500
*If you are interested in spending more time in the facility, please note that an extra 1/2 hour reserved in advance is $50. If you request more time on the day of your party, the cost is $65/half-hour. Individual extra gymnast fee $10+tax. If more than one child is celebrating their birthday, no problem, just add $10 for an extra birthday medal!
All parties need to be booked ahead of time and are not confirmed until the party is paid in full.  You may pay in person at the front desk or over the phone to confirm your party.
Please tell guests not to arrive more than 10 minutes early and prompt pick-up is required.
Participation Waiver
The current Release of Liability Waiver is available in PDF form here: Waiver Form.
Each guest must sign the waiver prior to participating in birthday parties.