Western Nationals Women Shine!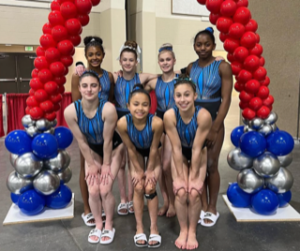 6 Metropolitan Level 9's represented themselves, our club, and Region 2 at the Western Nationals in Utah! 
They brought home 4 Silver Event titles, 5 individual event medals, and 3 AA medals between them.  Our girls contributed to Region 2 finishing second in the Super Team Awards!
Congrats to all our competitors and medalists!
Lauren Supnet – Silver on Vault, 5th on Bean, 4th on Floor, and 6th All-Around
McKenzie Matsui – Silver on Vault, Silber on Floor, and 5th All-Around
Annie Murray – 5th on Vault, Silver on Beam, and 6th All-Around
Kaelee Wong – 7th on Vault, 5th on Beam