We offer Open Gym on Wednesdays from 2-4 and Saturdays from 12-1 for preschool and 1-2 for school-age kids. 
If you miss a recreational class, you can request an open gym pass within 30 days of your absence.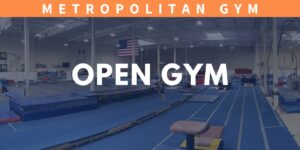 REGISTER HERE FOR OPEN GYM!
Open gym at Metropolitan is a fantastic way to play in the gym, practice skills, and get out the wiggles! Our open gym area features trampolines, a rod floor, a large foam pit, and of course gymnastics equipment! Kids are welcome to come and play!  Children under 6 must be accompanied by a parent on the floor (not on the equipment).
Open Gyms are offered Wednesdays and Fridays from 2-4 pm (All ages) and Saturdays from 12-1 pm (ages 0-5) and 1-2 pm (ages 6-16).  ** 14 yrs old and older are NOT allowed competitive equipment during OPEN GYM. **
Register and pay online one hour prior to the start of the event.  Due to limited space for Open Gym, there are no date changes or refunds allowed.  Prior to attending, parents must create an online account at Metropolitan Gymnastics and accept all policies and waivers.
Member Pricing: 
$20 for up to two hours with the applied discount code.

$15 for up to one hour (Saturday) with the applied discount code.
Non-Member Pricing:
$25 for up to two hours

$20 for up to one hour (Saturday)