Optionals Girls CRUSH Region 2 Championships
Metropolitan's Option Girls team had an outstanding Region 2 Championships competition!  Levels 7-10 competed against gymnasts from WA, OR, ID, MT, AK, and HI.
Metropolitan also received their award for the  2019  Region  2 Club of the Year (delivery delayed for the pandemic).  That makes 3 Regional Club  Awards in  6 seasons!  Way to go  Coaching  Staff!!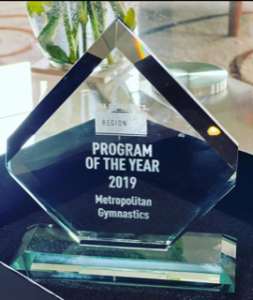 Regionals Results by the Numbers:
Level 7:
4 Individual-event Champions
1 Individual-event Silver medalist
Level 8:
1 Washington State Team member
5 Individual-event Champions
4 Individual-event Silver medalists
2 Individual-event Bronze medalists
2 ALL-Around Champions
Level 9:
6 Individual-event Champions
6 Individual-event Silver medalists
4 Individual-event Bronze medalists
2 ALL-Around Champions
2 ALL-Around Silver medalists
1 ALL-Around Bronze medalist
6 Western National Championship Qualifiers
Level 10:
4 Individual-event Champions
7 Individual-event Silver medalists
1 Individual-event Bronze medalist
1 ALL-Around Champion
1 ALL-Around Bronze medalist
6 JDP National Championship Qualifiers