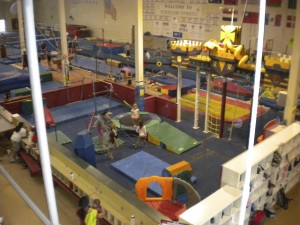 Special Needs
Movers and Groovers Class- (Ages 4-18yrs) By Appointment only
The Movers and Groovers class is co-ed (ages 4-18) and is adapted for children with Special Educational Needs and/or Special Physical Needs. Each gymnast is required to have an assistant to participate. Our Mission is to develop and nurture each Child's individual needs in a safe environment, as well as challenge your children's physical and cognitive skills. Our programs are designed to challenge your children in ways that cannot be challenged in a classroom. The first class is free! Participants must purchase a $100.00 punch card for 10 drop-in classes. There is also a 1-time membership fee of $20.00, but the first year of the annual fee is waived for Mover and Groover participants!
Classes contain:
Activities on gym equipment
Gaining balance and coordination
Improving fine and major motor skills
Come on in and lets get movin' and groovin'!!
Schedule Class times: Friday 4:30-5:30pm by appointment ONLY
$100 punch card gets you 10 classes. So there is no commitment to a designated class. You pick and choose when to come that works best with your family's schedule. Your first class is FREE to try out our program and see if it works for your family.