Men's Teams at Washington Open 2023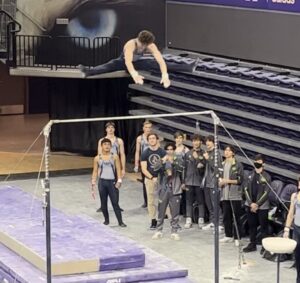 The Club and Junior National Boy's Teams had a great showing at the Washington Open at the University of Washington in Seattle.  The meet was also a qualifying meet for the Region 2 team for the Elite Team Cup. We are proud to announce that both Jonah S and Alan S will be representing the region on our Elite Team Cup team at the end of February!
Below are the Top 3 finishes for All-Around and Individual events for each of the levels who competed.
Bronze: 2nd Place Team
Oliver H– 3rd place AA, 1st place Floor, Vault, 2nd place Pommel, 3rd place Rings
CJ E – 1st place Vault, 3rd place Floor, Pommel

Vinnie M – 1st place Pommel, High Bar
Silver: 2nd Place Team
Franklin G – 2nd Place Pommel
Enzo M – 1st Place Vault
Gold: 1st Place Team
Owen L – 1st place AA, Floor, Rings, High Bar, 2nd place High bar, 3rd place Pommel
Benny M – 3rd place AA, 1st Place Pommel, 2nd Place High Bar

Ben G-S – 1st Place Vault, 3rd Place Rings

Liam C – 2nd Place Vault, P-Bars

Griffin M – 1st Place Floor, 2nd Place Vault
Luca D – 3rd Place Floor, High Bar
Level 3D2
Liam P – 1st place AA, P-Bars, High Bar, 2nd place Pommel, Vault
Daniel B – 1st Place Rings
Isaac P 1st Place AA, Pommel, High Bar, 2nd Place Floor, P-bars
Tahir B 2nd Place AA, Floor, 3rd Place Vault, High Bar
Ethan C – 2nd Place Pommel, 3rd Place Rings

Harrison G 1st Place P-Bars, 2nd Place Rings
Level 4D1
Oliver  – 3rd place P-Bars

Yuya I – 2nd place AA, Rings, High Bar, 1st Place Floor, Pommel,
Level 4D2:
Janrich V 1st Place AA, Floor, Pommel, P-Bar, High Bar, 3rd Place Rings
Cameron K: 3rd Place AA, 2nd Place P-Bars
Level 5: 1st Place Team
Kellen L 1st place AA, Floor, High bar, 2nd place Rings, P-Bars, 3rd place Pommel
Lincoln K 2nd place AA Pommel, 1st place Rings, 3rd place Vault, P-bar, High Bar
Marcello R 1st Place AA, Floor, High Bar, 2nd Place Vault, 3rd Place P-bars
Daniel W– 3rd place Floor
Level 6: 1st Place Team
Brody B 1st Place AA, Pommel, Rings, 2nd Place High Bar, 3rd Place Floor, P-Bars
Will D 3rd Place AA, 1st Place Floor, 2nd Place Vault, 3rd Place Rings
Garth J-R 2nd Place Pommel
Derek V-2nd Place Floor, 3rd Place Pommel
Zach J – 2nd Place Vault, P-Bars, 3rd Place High Bar
Level 7
Tanner  -1st Place Rings, 2nd place Pommel, 3rd place Vault
Level 8: 3rd Place Team
Gabe S, 3rd place AA, 1st place Rings, 2nd place Vault, P-bar
Ray T – 2nd place Vault
Finn B– 1st Place Rings
Level 9: 
Sean H – 2nd place AA, 1st pommel 3rd floor
David B – 2nd High bar
Level 10: 2nd Place Team
Jonah S 1st place AA, Pommel, Vault, P-Bar, High Bar
Eli D – 3rd place AA, 1st place Floor, 2nd P-Bar, 3rd place Pommel, Rings
Aden H– 2nd Place Rings
Alan S – 2nd place Rings, 3rd Place Floor, P-bars