Join us for Mid-Winter Camp during school break!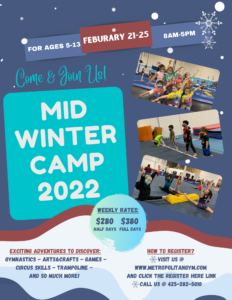 Mid-Winter Camp February 21st-25th
Choose a full-day or half-day
The camp day will consist of Gymnastics, Trampoline, Circus Skills, Games, Crafts, and more!
What to bring:
*Walking shoes with socks for nature walks
*A water bottle with your name on the bottle
*A SMILE!!!
What to wear: Girls may wear a leotard.  All campers should have shorts and a t-shirt.  Clothing should have NO belts, buckles, or zippers.  Hair that CAN be tied back MUST be tied back.  NO Jewelry.  Participants will receive an official camp t-shirt which must be worn during "out of gym" camp activities.
Lunch and Snacks:  *Campers will need to bring their own nutritious lunch, a mid-morning or mid-afternoon snack.