Metropolitan Brings Home the Hardware @ Junior Olympics Nationals 2018!
Metropolitan was well represented at both the Women's JO National Championships in Cincinnati, OH and the Men's JO/JE National Championships in Oklahoma City, OK in May!
The men's team sent 9 athletes to the National Championships.    Congrats to Eli Deehr, Jonah Soltz, Eric Markov, Kyle Bender, Alan Sovrebov, Bradley Stroud, Sebastian Kane, Dante Hays, and Nick Kuebler!
They brought home 16 Nationals medals and earned 5th Place for the Level 9 Club Team (Kyle Bender, Alan Sovrebov, Bradley Stroud, Eric Markov).
Dante Hays became the Level 10 (15 years) JO National All-Around Champion as well as the Parallel Bar National Champion!
Kyle Bender (L9) earned the Bronze medal on Pommel Horse.
Alan Sovrebov (L9) earned Bronze on Floor.
Bradley Stroud (L9) earned Bronze on both Floor and Parallel Bars.
Jonah Soltz (L8) earned 10th on Floor, 5th on Floor, and 7th on High Bar.
Nick Kuebler (L10) and Sebastian Kane (L9) competed in the Junior Elite competition.  Nick earned the Bronze on Floor, Silver on Rings, 4th on High Bar and 9th in the All-Around.  Nick also qualified to the US National Championships in August where he will compete to keep his place on the US Junior National Team.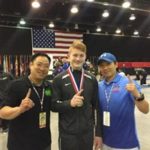 The women's team sent 7 athletes to the JO National Championships.  Congratulations to Julia Melchert, Emma Morgenthaler, Madi Brunette, Karlei Shearer, Kristina Peterson, Brooke Donabedian , Maya Lauzon.
Maya Lauzon earned the Bronze medal in the All-Around, 5th on Vault, 9th on Bars, and the Bronze on Beam.  She was also named to the National Team!
Karlei earned 7th place on Beam.