Madison Burnette signs with Stanford!
Metropolitan Gymnastics is proud to congratulate Madison Burnette on her scholarship to Stanford University.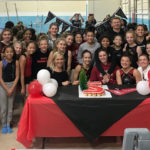 We had the pleasure of celebrating her decision to join the Cardinal gymnastics team in the fall and pursue her education at Stanford.  Congratulations Maddie – we are SO PROUD of you!
Captain Kristina interviews Senior Maddie: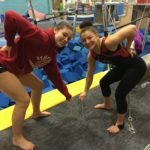 Kristina:  When did you start gymnastics?
Maddie: I started in kindergarten at the age of 5 but didn't start competing in the JO program until 5th grade.
Kristina: What is your favorite event?
Maddie: Bars
Kristina: What has been your favorite meet?
Maddie: My favorite meet is either the Classic Rock in Phoenix or JO Nationals.
Kristina: When did you verbally commit to Stanford?
Maddie: I think it was in my sophomore year, but I don't actually remember the date.  I was officially accepted to Stanford in July.
Kristina:  What has Junior Olympic gymnastics taught you?
Maddie: JO gymnastics has taught me so many important lessons, one of the most important being perseverance.  There are always going to be times when your goals seem out of reach, but if you continue to stay focused and push yourself you can get through those tough times.
Kristina:  What are you going to miss most about the JO Program?
Maddie: I am going to miss the JO community that I have come to know over the years.  All of the girls that you compete with and against over the years and the coaches who work with you and cheer for you regardless of what team you are on are what makes JO so special and fun.
Kristina:  Do you have anything you want to say to our younger gymnastics teammates?
Maddie:  Remember to enjoy yourself in your training.  It is easy to get caught up in the stress, pain, and hard work of the sport, and although none of those things are going away, it is important to remember that you are doing this sport because you love it.  Gymnastics is such an amazing and unique sport that can teach you so much as long as you are willing to face every challenge it poses with the same eagerness and love as you had when you first started.