Happy Holidays from Metropolitan Gymnastics!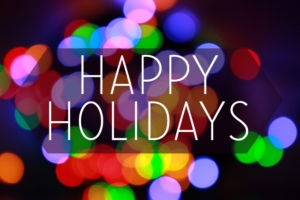 We will be closed on Christmas Eve, Christmas Day, New Year's Eve and New Year's Day.  
Recreation classes will be on Holiday Break beginning December 22nd.  We will resume classes on January 2nd, 2017 (Saturday classes resume Jan. 14th) 
We are offering Holiday Open Gym sessions M-F from 2-4 pm beginning on Monday, December 19th and ending on Friday, December 30th. (No Saturdays)
We look forward to seeing you in the NEW YEAR!  If you are interested in registering for new classes for the new year, please contact the office between 2-4 pm M-F between Dec. 19th and Dec. 30th during Open Gym hours.  You can also send us an email!